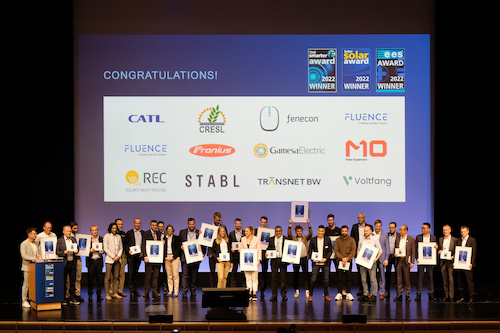 The renewable energy market is booming – for a reason. Innovations are driving the modernization of the energy infrastructure worldwide. The fact that innovations are increasingly interlinking solar, energy storage, e-mobility and energy management is also due to digitization, which is accelerating the transition to a decentralized energy industry.
About the AWARDs
The smarter E AWARD, Intersolar AWARD and ees AWARD have set themselves the goal of honoring these innovations on a very public platform. The awards in the categories Outstanding Projects, Smart Renewable Energy, Photovoltaics, and Electrical Energy Storage will be presented to companies whose concepts and technologies are already contributing to an intelligent, sustainable and cost-effective energy supply.
And taking part is more than worth it, as last year's results impressively show. The finalists included major industry players as well as many future-oriented SMEs and start-ups. In the end, many of them were among the winners!
A nomination as The smarter E AWARD, Intersolar AWARD or ees AWARD Finalist and Winner brings numerous advantages. Put your own innovative strength in the spotlight and benefit from services such as a comprehensive marketing package.
More information is available here.
The next submission period runs from December 01, 2022 to March 17, 2023.
AWARD Ceremony 2022